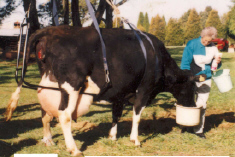 By Dr. Mike Anderson,DVM
The UpsiDaisy Cow Lifter is a reality and it can be used as a metaphor for the improvements happening to quality of life for our farm animals and especially the dairy cows. Whatcom County is home to 10's of thousands of farm animals with nearly 50,000 dairy cows and their offspring.
Are you aware that Whatcom dairies are routinely visited not only by state and federal health safety regulators, but from major companies like Walmart and Nestle who send their investigators to as representatives of their customers? Their customers have expectations that our cows are being cared for in a manner that ensures their safety and well-being. The care of dairy cows continues to advance beyond health and productivity and addresses pain management, affective states, naturalness and the direct interactions between workers and animals in their care.
Federal and state regulations continue to raise the bar for animal care and consumers vote every day with their purchases, but the real improvements are coming from the dairies themselves. The owners and workers on our dairies keep abreast of current and updated research which they couple with daily observations of everyday animal life, together this is promoting changes for the betterment of dairy cows and all food animals. Changes in nutrition, facilities, environment and the human-animal interface do improve health and productivity but they also prevent unwarranted illnesses, injuries, pain and suffering which then prevents unnecessary treatments including the use of antibiotics and other drugs.
New research, more awareness, better employee training, increased consistency and of course a little inventor ingenuity like the UpsiDaisy Cow Lifter. Enjoy the video and one inventors' idea that may save a few injured cows and assist more to be moved safely to an environment to recover.
Visit http://upsidaisycowlifter.com/ for more information.
Quote from Temple Grandin:
Dear Larry – I watched your cow lifter video and I was really impressed.  This is a simple, easy to use piece of equipment that will really improve cow welfare.  The cow stayed calm when she was lifted up, and I would recommend the Upsi-Daisy.  My only caution would be advertising it as a method of transport.  The cow should only be carried to move her in place where she can be rehabilitated.