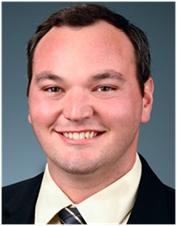 Dr. Murphy was born and raised in a small town called Yountville, CA in the Napa Valley. He received both his Bachelor of Science in Animal Science (2011) and his Doctorate of Veterinary Medicine (2016) degrees from the University of California, Davis.
He enjoys working with all animals found on your farms, including beef, dairy, goats, sheep, horses, pigs, llamas, and alpacas. His special interests include bovine ultrasound, breeding soundness exams, equine dentistry, and herd health evaluations for on farm improvements and profitability to the client.
In his free time, Dr. Murphy enjoys hiking, fishing, cooking, wood-working, and spending time with his beautiful wife and pets.
He is looking forward to establishing lifelong connections with clients and patients, while providing the highest standard of care possible to every animal he encounters.